VMS VR – a virtual reality app in a digital and integrated marketing campaign
The virtual reality app VMS VR is a marketing gimmick. Basically it is Content Marketing in its pure form. The company name VELUX appear only as a small logo two places inside the app. The app itself is targeted architects and is designed to give a real immersive and spectacular experience, wanting them to consider skylights for their next project. Then it doesn't really matter, that the experience is so cool, that everyone else also wants to play with the app.
The social media campaign was launched towards the 50,000 known architects in the UK from a paid database. (VELUX know their occupation but dont know if they are already in a business relationship with the company). By using social media, permission and retarget marketing it is possible to drive the users through a journey that ends by having filtrated architects from general users and having the positive tuned architects in a dialog about specification of future building projects.


Three awe-inspiring buildings to explore on social media
Real virtual reality is possible to see from either YouTube played on a PC through a Google Crome browser, Facebook played on a mobile device or on Vimeo played on a mobile device. The experience on the VMS VR app is cut down into three shorter movies to promote the app. See the cut-down versions here below.
Owner: VELUX A/S
Marketing Manager: Lotte Kragelund
Advertising Agency: VELUX CS
Idea: Dennis Rafn / Rasmus Harnung
Art Director: Stewart Sørensen / Rasmus Harnung
Art Buyer: Anders Lundgren
Production: STORMZ Production
A standard carousel for advertising on Facebook. The posts promote the app in highlights with frame grab from the movies.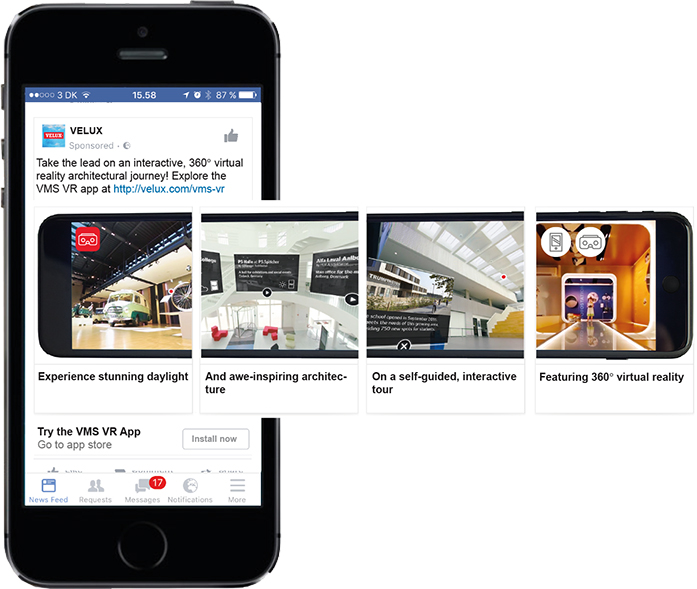 Teaser Trailer for SoMe
Made for Facebook, YouTube, iTune Store and Google Play.
Production: STORMZ Production
Creating more awareness – post for SoMe
An inspiring tour de force inside the app experience.
Owner: VELUX A/S
Marketing Manager: Lotte Kragelund
Advertising Agency: VELUX CS
Idea/Art Director: Rasmus Harnung
Art Buyer: Anders Lundgren
Production: STORMZ Production
Permission marketing and campaign site
Free VR-goggles
Real virtual reality has to be seen through VR-goggles. Proceed to the campaign site and sign up for a pair for free.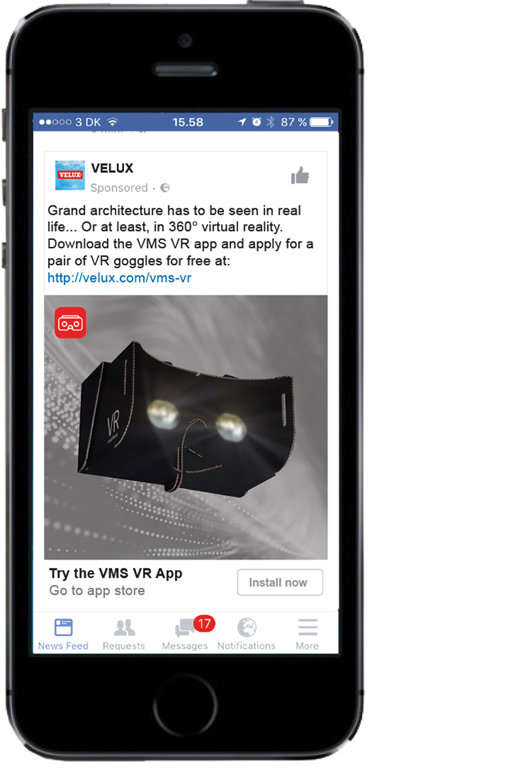 Campaign site
This site convert all users (some may come from a laptop) to a mobile device with a simple QR-code. By signing up for a free pair of goggles, they also give permission to receive a newsletter. They have to sign up with occupation and all the non-architects will not proceed to the retargeting campaign.

Try the VMS VR app for yourself
At this point VELUX have a strong believe that the users of the app are mostly architects – but they can't be sure. By sending relevant retargeting banners to the users mobile device it will be obvious if the users are an architect or not, because the banners are extremely targeted and only relevant for architects.
Grand architecture
Banner one. Inspirational video banner.
Predictable performance
Banner two. Informative video banner.
What you draw is what you get
Banner three. Download free CAD/BIM tools.
Main website and Content Marketing
Responding on the banners the architects will enter the main VELUX Modular Skylight website. Once been there, Hob Spot will set an marker on the IP-address. They have now entered a standard procedure to drive them through the marketing funnel to either download a CAD/BIM tool, signing up to receive a newsletter or other relevant content marketing elements. 
VMS landing page.
(Main page).

Download CAD/BIM.
Landing page for architects (sub-page).

Building Solution Gallery.
Inspirational page with lots of cases.

A new round to promote the app will take place mid 2018 on social media. All the statistics, a lot of new posts, competition and more will be shown here soon. See you.